What is the Net Worth of 92-year-old American singer, Tony Bennett?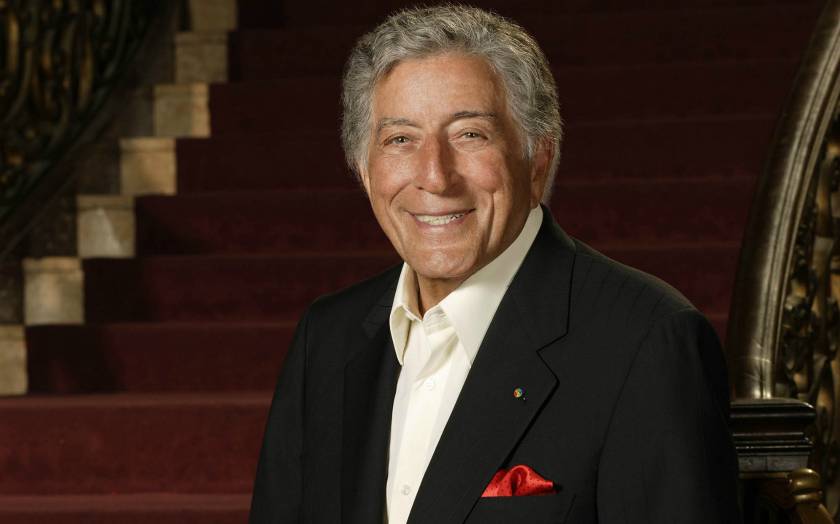 Tony Bennett is an American jazz vocalist, songwriter, and former painter who is famous for performing standards and his signature song, I Left My Heart in San Francisco. Also, he is famous for his big band, show tunes, and jazz. He started his singing career at a very young age of 10 and was first recognized by Pearl Bailey.
Tony is the founder of the Frank Sinatra School of the Arts in Astoria, Queens, New York. Let's talk more about his net worth, professional career, interesting facts and other many more.
How much is Tony Bennett Net Worth?
Tony Bennett has an estimated net worth of around $200 million as of 2019. He has earned most part of his net worth from his successful musical career. Moreover, his paintings were also featured in ART news and various other magazines and most of them were sold in $80k individually. Also, his best seller books Tony Bennett: What My Heart Has Seen and Tony Bennett in the Studio: A Life of Art & Music which also helped to add a figure to his current net worth.
Caption: Tony Bennett with his wife and car
Currently, he listed his six bedrooms 9500 square-foot house on the western-most promontory of Belvedere Island OD worth $27.5 million for sale. He is living a lavish lifestyle with his wife and children on the lavish mansion.
The Professional Career of Tony Bennett
Tony Bennett started singing at an age of 10 years old and also performed with Mayor, Fiorello La Guardia, at the opening of the Triborough Bridge. At the young age of 13, he started working as a singing waiter and got paid for in several Italian restaurants. Then, he rose to media spotlight after the success of subsequent hit tracks such as I Wanna Be Around and The Good Life. Later, Tony released several tribute albums including Perfectly Frank, Steppin' Out and Tony Bennett on Holiday. 
Caption: Tony Bennett, jazz singer
Furthermore, he released A Wonderful World featuring k.d Lang in the year 2002 for which he received another Grammy for Best Traditional Pop Vocal Album. In 2006, Tony released Duets: An American Classic, featuring Barbra Streisand, Elton John, and Sting. Following the success of the album, he released another celebratory album in 2011, Duets II which includes The Lady Is a Tramp featuring Lady Gaga and Body and Soul featuring Amy Winehouse.
Besides these, Tony is also a painter and known as Anthony Benedetto. His paintings were featured in some museum including Smithsonian and the Metropolitan Museum of Art. Also, he is the author of best seller books, Tony Bennett: What My Heart Has Seen, The Good Life: The Autobiography of Tony Bennett, Tony Bennett in the Studio: A Life of Art & Music, Life is a Gift: The Zen of Bennett, and other many more.
Who gave Tony Bennett his Name?
Tony Bennett's birth name is Anthony Dominick Benedetto. In the year 1949, Pearl Bailey recognized his talent and asked him to open for her in Greenwich Village where she had invited Bob Hope to the show. Bob decided to take him on the road with him and simplified his name to Tony Bennett.
Caption: Tony Bennett with Bob Hope
Is Tony still Singing?
Bennett is a singer with a career that spanned more than fifty years. He was immensely popular in the 50s and the 60s because of his brand of standards. He struggled with issues concerning addiction in the 70s and the 80s but he was able to get back his life on record. Since then, Tony remained on track and successfully re-launched his career.
Tony has remained to be popular and he has been selling 50 million albums and has won several awards. He grew up in the Great Depression and distaste that came from the Hoover Administration which made him a lifelong Democrat and has remained since and still active on his singing career.
Tony Bennett's Dead Rumor
Tony Bennett's death news spread quickly earlier this week causing concern among his fans worldwide. The rumors of the singer's alleged demise gained huge attraction on Friday after a 'R.I.P. Tony Bennett' Facebook page attracted around one million likes. Those who read the 'About' page were given a believable status of the American singer's passing:
"At about 11 a.m. ET on Friday (May 10, 2019), our beloved singer Tony Bennett passed away. Tony Bennett was born on August 3, 1926 in New York. He will be missed but not forgotten. Please show your sympathy and condolences by commenting on and liking this page."
His many fans immediately started writing their messages of condolence on the Facebook page, expressing their sadness that the talented 93-year-old singer was dead. However, some pointed out that the news had not been carried on any major American network, indicating that it was a fake report.
Tony Bennett's Death Rumor Dismissed Since He is Alive and Well
On Saturday (May 11) Tony's representative officially confirmed that he is not dead. They said:
"He joins the long list of celebrities who have been victimized by this hoax. He's still alive and well, stop believing what you see on the Internet,"
Some fans had expressed anger at the fake report saying it was useless, distressing and hurtful to fans of the much-loved singer.
Tony Bennett's Interesting Facts
Tony Bennett was born as Anthony Dominick Benedetto on 3rd August 1926, in Astoria, Queens, New York, the United States of America to John Benedetto (father) and Anna Suraci (mother).
As of 2019, he is 93 years old and his horoscope is Leo.
He has two siblings, John Benedetto Jr. (brother), and Mary Benedetto (sister).
Tony holds an American nationality and belongs to Caucasian ethnical background.
He has an estimated net worth of about $200 million.
Tony Bennett is currently married to Susan Crow who is a former social studies teacher.
He stands at a height of 5 feet 8 inches with a weight of about 79 kg.
Tony Bennett is active on various social media platforms such as Facebook, Instagram, and Twitter.