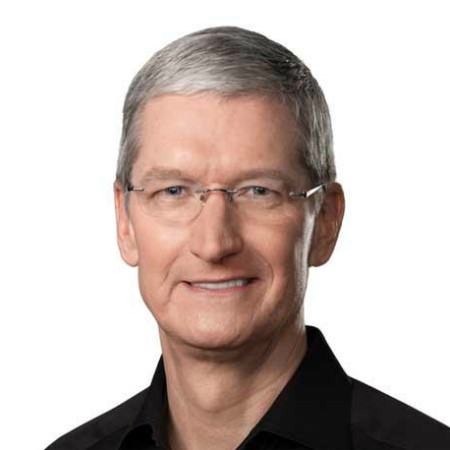 Tim Cook is an American business leader. He has been serving as the chief executive officer of Apple since August 2011.
Tim Cook's Education
He attended Robertsdale High School. Then, he joined Auburn University from where he graduated in 1982 with a Bachelor of Science (B.S.) in industrial engineering. After that, in 1988, he got a Master of Business Administration (MBA) from Duke University's Fuqua School of Business.
How much is Tim Cook Net Worth and Salary?
The estimated net worth of Tim is $625 million. He earned this huge net worth especially from his career in Apple. According to the sources, in 2017, Cook got a total of $12 million as his salary and bonus ($12,825,066 to be exact). Moreover, $3,057,692 was his basic and $9,327,000 was non-equity incentives, which is essentially a cash bonus for top executives.
As for now, Cook lives in a luxurious home in Palo Alto, California. The home is at 2,400-square-foot with four bedrooms and boasts of a tiny yard and small adjunct section of real estate in the back. Tim bought the condo back in 2010 for $1.9 million. Without any doubt, Tim is spending a luxurious life.
Is Tim Cook Gay? Who is Tim Cook Partner?
In October 2014, Tim confirmed that he is gay. Further, he added that he is not ashamed to say that he is gay. He said that he has been open about his sexual orientation and has sought to focus on Apple's products and customers rather than his personal life.
As he has cleared that he is gay, there is no information about his partner. Most probably the Apple CEO is busy with his career in Apple. Well, as he is already so successful, we wish he achieve much more than this in the coming days.
Tim Cook's Controversies
During his time as Apple CEO, Tim faced mounting questions about the company's strategy of storing income overseas. After that, in a 2013 hearing before the Senate, Cook rejected the notion that he was attempting to bypass U.S. tax laws, noting that Apple was paying one of the highest effective tax rates of any major corporation.
Again in late December 2017, Apple was hit with multiple lawsuits after admitting to intentionally slowing the performance of aging iPhones. Moreover, the company faced charges that it was deceiving customers into paying more for new models.
Early Life
Tim Cook was born on 1st November 1960 in Mobile, Alabama, the U.S as Timothy Donald Cook. As of 2019, he is 59 years old. He is the son of Donald Cook, a shipyard worker and Geraldine Cook, a pharmacy employee. He also has brothers Gerald Cook and Michael Cook.
Tim holds an American nationality and belongs to the white ethnic group.
Tim Cook's Career
After his graduation, Cook embarked a career in the field of computer technology. First of all, he was hired by IBM, where he moved up the ranks to become the corporation's North American fulfillment director, managing manufacturing and distribution functions for IBM's Personal Computer Company in both North and Latin America.
After that, following a 12-year career at IBM, Cook in 1994 became a chief operating officer of the Reseller Division at Intelligent Electronics. Then, after three years he joined the Compaq Computer Corporation as vice president of corporate materials, charged with procuring and managing product inventory. After a six-month stint at Compaq, Cook left for a position at Apple.
Tim Cook's Career at Apple
Cook began working for Apple in early 1998, before the company had developed the likes of the iMac, iPod, iPhone or iPad. That time, it was seeing declining profits instead of profit growth. But fortunately, things quickly changed after Cook came on board as a vice president. Within less than a year after his Apple debut, the corporation was reporting profits, an extraordinary shift from a recent report that showed a net loss of $1 billion from the prior fiscal year. After that, Cook rose to executive vice president and then the chief operating officer. He then took responsibility for managing worldwide sales and operations, along with leading the Macintosh division and continued development of reseller/supplier relationships.
He was named Apple's new CEO, taking over the position for former CEO and Apple co-founder Steve Jobs inAugust 2011. Steve Jobs died in October 2011 after a years-long battle with cancer. Along with serving as CEO, Cook sits on the corporation's board of directors.
What is the Height of Tim Cook?
Regarding his body measurements, Tim stands at a height of 6 feet 3 inches whereas weighs around 80 kg. Moreover, he has got grey eyes and grey colored hair. At the age of late fifties also, Tim looks quite healthy. He has got around 11.3 million followers on his official  Twitter account.