American Rapper T-Pain and Wife, Amber Fajm have been married for 15 years; Are they Happily Living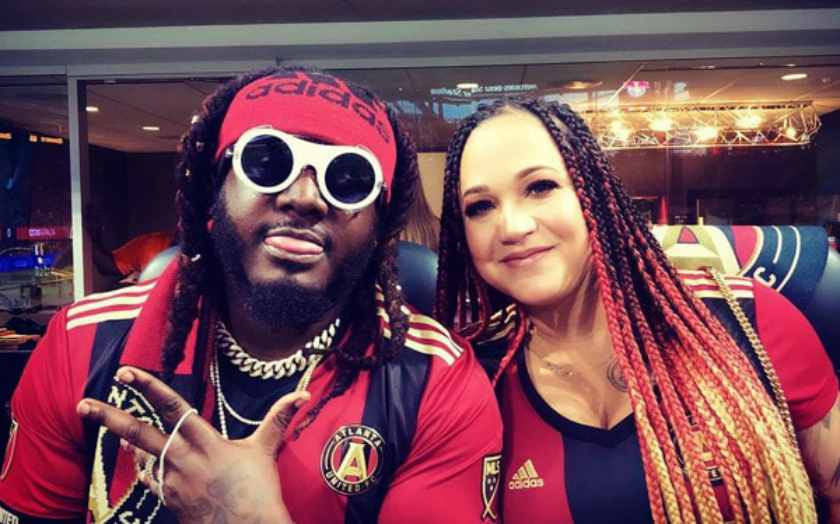 T-Pain is an American singer, rapper, songwriter, and producer who has around 60 hit songs to his name including I'm in Luv Wit a Stripper and Bartender. He has sold more than 16 million copies worldwide and has over 50 million digital downloads. Also, he has won 2 Grammy Awards with Kanye West and Jamie Foxx.
Currently, T-Pain has been having a blissful married Life. He got married to Amber Najim since the year 2003 and shared three children; a daughter and two sons.
American Rapper T-Pain and Wife, Amber Fajm's Married Life; How Many Kids Do the Couple have?
T-Pain tied the wedding knot with Amber Fajm in the year 2003. Currently, there is no information about his wife's profession. However, her wife used to work for the military before settling down with him. Also, she reportedly graduated from Florida A&M University with a bachelor's degree. Moreover, they also have three children Lyriq (daughter), Muziq and Kaydnz Kodah (son). The couple has been also spotted together several times in the public and currently, they are living a blissful life.
Caption: T-pain with his wife, Amber Najm
After 11 years of marriage, in an interview, T-Pain expressed that he understands the meaning and importance of his family and wife where he revealed that he definitely wanted to be a better husband, father, and a better life so that he can make his family live good. He added:
"I came to a point that, even though I had so much money and even though I was doing so good, none of that stuff is going to mean anything if my family ain't okay."
T-Pain and his wife Amber Najm's threesome controversy
In a telephonic interview of T-Pain with TT Torez, he opened up about his threesome with his wife, Amber and other women. He was clear about his intentions and that he loves his wife more than anything. Furthermore, he added that people have called them swingers and had an open marriage. He added:
"I was just telling them that me and my wife just sleep with other girls together. It's not like we can just go off and have relationships with other people. People were assuming we got married for nothing. Just because we smash an every now and then doesn't mean we have an open marriage."
Past Affairs and Relationships
Currently, T-Pain has been living a blissful marriage with his wife, Amber Fajm. They married in the year 2003. Since their marriage, they have maintained a sound relation between them and never involved in any other extra-marital affairs. Currently, they are enjoying their married life and living elegantly. There is no other information regarding his past affairs and relationship.
Does T-Pain have a Brother?
T-Pain spent his childhood with his four siblings. Hakim Najm is the elder brother in his family while his sister, Zakiyyah Keke King is the first sister in his family. He has another brother named Rasheed Constantine Najm and a younger sister, A'pril Najm. His whole family supported his singing career.
Caption: T-pain's siblings and father
Where are T-Pain Parents from?
T-Pain was born as Faheem Najm in a middle-class Muslim family in Tallahassee but has since expressed his lack of interest in the concept of religion. The relationship between with his father, Shasheem Najm has grown sour over the years and both father and son are still not on talking terms till date. However, his mother name is Aliyah Najm. His parents were from the United States of America.
Caption: T-Pain's parents
T-Pain's Quick Facts
T-Pain was born as Faheem Najm on 30th September 1985 in Tallahassee, Florida, the United States of America.
His full stage name is Tallahassee Pain which was chosen because of the hardships he experienced while living in his birthplace.
As of 2019, he is 34 years old and his birth sign is Libra.
T-Pain is the son of Shasheem Najm (father) and Aliyah Najm (mother).
He grew up with his four siblings, Hakim Najm, Zakiyyah Keke King, Rasheed Constantine Najm, and A'pril Najm.
T-Pain has an estimated net worth of around $35 million.
He is married to Amber Fajm.
T-pain has three children,  Lyriq, Muziq, and Kaydnz Kodah.
He stands at a decent height of 5 feet 7 inches and his body weight is around 86 kg.
T-Pain is active on various social networking sites such as Facebook, Instagram, and Twitter.