Steve Kerr Bio, Age, Net Worth 2022, Salary, Father, Wife, Kids, Height,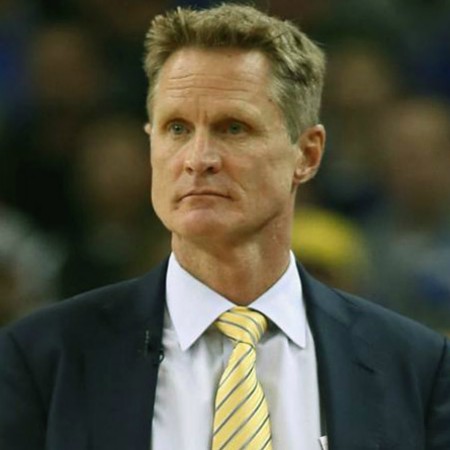 Steve Kerr is an American professional basketball coach and former player. He is the head coach of the Golden State Warriors of the National Basketball Association.
Similarly, he is an eight-time NBA champion, having won five titles as a player as well as three with the Warriors as a head coach.
Early Life of Steve Kerr
Steve Kerr was born on September 27, 1965, in Beirut, Lebanon. As of 2109, he is 54 years old with the birth sign Libra. His birth name is Stephen Douglas Kerr. He is the son of Malcolm H. Kerr(father) and Ann(mother). He also has three siblings one sister Susan Kerr and two brothers John Kerr and Andrew Kerr
Steve holds an American nationality and belongs to the Caucasian ethnicity. His grandfather volunteered for Middle East assistance after the Armenian genocide and rescued women and orphans in Aleppo and Marash before finally settling in Beirut.
Steve spent much of his childhood in Lebanon and other Middle Eastern countries. He attended Cairo American College in Egypt, American Community School in Beirut, Lebanon, and Palisades High School in LA. Kerr graduated from the University of Arizona in 1988 with a Bachelor of General Studies.
How much is Steve Kerr's Net Worth and Salary?
Steve's net worth is estimated at around 18 million US dollars as of 2022. His current salary as head coach of Warriors is estimated at around $ 5 million. His $ 25 million 4-year contract recently ended in 2018 and were offered with a contract extension, but details are yet not known.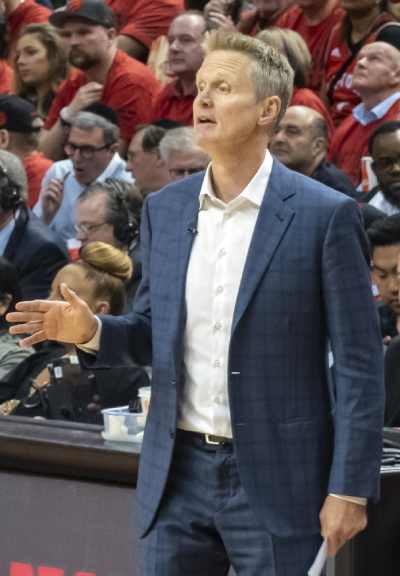 According to some sources, his new contract will make him one of the highest-paid NBA coaches. Kerr recently purchased a mansion in San Francisco, California, in August 2018 for $ 7.3 million. He paid about $ 1.5 million more than the asking price for the four-bedroom, three-and-a-half-bath home.
In addition, Kerr also owns a home in Rancho Santa Fe, California. He also owned a house in Lake Forest, which he sold in 1999 for $ 760,000. Moreover, in 1996, he bought the house for $ 625,000.
Who is Steve Kerr Wife? Does he have any children?
Steve Kerr is a married man. He married Margot Kerr. The couple tied their knot on September 15, 1990. The pair celebrated their silver jubilee in 2015. Steve and Margot were the college favorites and dated a few years before their wedding. They met in 1985 for the first time through a blind date.
They live happily together and there is no sign of separation between the beautiful couple. He is also not involved in a non-marital affair.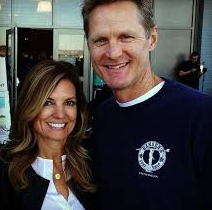 They have three children as a son named Nicholas Kerr and two daughters, Madeleine Kerr and Matthew Kerr. He is not only a faithful husband but also a caring father, taking care of his family.
His eldest son Nicholas is a trainee intern at Cal and is currently a member of the San Antonio Spurs coaching staff for the first year. One of his daughters, Madeleine, is a volleyball player in Cal, while the other daughter likes to write about sports.
Body Measurement (Height and Weight)
Steve has an appealing body figure. He stands at the height of 6 feet 3 inches and his weight is 95 kg. He has light brown hair color and blue eyes with a white skin tone.
Career
Kerr was selected by the Phoenix Suns in the second round of the NBA draft of 1988 and sold to the Cleveland Cavaliers in 1989.
He spent over 3 seasons there and then part of the 1992-93 season with the Orlando Magic.
In 1993, he signed with the Chicago Bulls.
He was instrumental in winning the Bulls championship in the 1997 NBA final against Utah Jazz.
The Bulls won the fifth title of the franchise. Kerr won the 1997 3-point shootout in the All-Star game.
In the off-season 1998 Kerr was sold to the San Antonio Spurs.
His timely departure from Chicago gave him the chance to win a fourth NBA title in a row.
The Spurs reached the 1999 NBA Finals. It was the first final in its history and Kerr won his fourth consecutive ring when the Spurs defeated the New York Knicks for the 1999 NBA Championship.
He is one of two people to have won four consecutive NBA titles without being part of the 1960s Boston Celtics dynasty. Kerr was traded to the Portland Trail Blazers on July 24, 2001.
He stayed in Portland for the 2001-02 season and played in 65 games. He returned to San Antonio on August 2, 2002.
The Spurs eventually won the NBA Championship this year by defeating the New Jersey Nets.
After the 2003 NBA finals, Steve announced his retirement.
He retired as the league's top three-point shooter for a season and career.
In 2003, Kerr became a broadcast analyst for Turner Network Television (TNT) and commented in collaboration with renowned analyst Marv Albert.
During the same period, Kerr also contributed to Yahoo! as an NBA commentator.
He cast his vote for the commentary on the EA Sports video games NBA Live 06, NBA Live 07, NBA Live 08, NBA Live 09, and NBA Live 10 with Albert.
Kerr has also given his voice as a color analyst for NBA 2K12, NBA 2K13, NBA 2K14, and NBA 2K15. He remains a commentator in the NBA 2K15.