Is Pete Sampras still Married? Who is his Wife? Also, Find about his Divorce Rumor & Quick Facts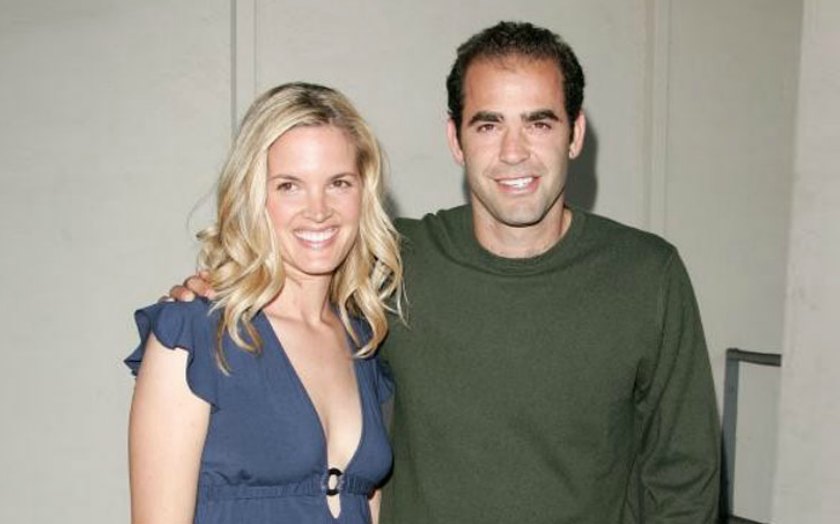 Pete Sampras is a retired American tennis player who is one of the greatest tennis players in the history of sports. In recent days he is in the media limelight just because of the rumor that Pete and his wife Bridgette Wilson might be on the phase of a divorce.
Well, the rumor regarding their divorce has been circulating all over the places lately. According to some online resource, the couple is indeed having troubles in their relationship, which might lead to their separation.
Is Pete Sampras still married?
Pete Sampras tied the wedding knot to his wife Bridgette Wilson. His wife Bridgette is the former Miss Teen USA, singer, actress, as well as a model,  The couple tied the wedding knot on 30th September 2000. They dated for 8 months before getting married. The love story of this adorable couple began in a movie theatre in LA way back in 1999.
Caption: Pete Sampras with his wife, Bridgette Wilson
During an interview, Pete recalled the moment. He said:
"I said to my friend, half-kidding, 'I'd love to meet her'."
Later, his friend contacted Bridgette and set a date for the two of them. At the time, she did not have a clue who Pete was as she was not into tennis at all. She said:
"I had never watched tennis, so I wasn't familiar with him. But when I saw his picture, I was like, 'Oh yeah, he's a cutie'."
The couple also has shared two children, together. Two years after embracing each other as life partners, Bridgette gave birth to their first child as a son named Christian Charles Sampras who was born on 21st November 2002. After three years, they welcomed their second child, another son named Ryan Nikolas Sampras who was born on 29th July 2005. As of now, the couple lives a happy married life together and they love visiting public places together.
Pete and Bridgette's Divorce Rumors
Although the couple appears to be living a delightful married life, there were some reports of conflicts between them. As per few sources back in the year 2015, their relationship went through some issues. It had been so serious, there were even talks of a divorce.
A source said:
"We find it awful when we heard about them bickering all the time, not just in their home but in public places as well. We didn't believe at first how this loving couple started hating each other. A few months back, everything seemed to be normal, but now they appear to disagree with some point."
The source disclosed the trouble began between the couple after they welcomed their first child as they couldn't spend quality time together like they used to. However, this is no longer an issue as both of their sons are teenagers now. Meanwhile, this adorable couple is currently living a blissful married life with non-exist controversies.
Does Pete Sampras have a son?
Pete and his wife, Bridgette share two sons together. Their first son Christian Charles Sampras was born on 21st November 2002. While they welcomed their second son named Ryan Nikolas Sampras was born on 29th July 2005. As of now, Pete is spending a very happy life with his family members.
Caption: Pete Sampras with his two sons
Pete Sampras's Quick Facts
Sampras was born on 12th August 1971, in Potomac, Maryland, the United States of America.
As of 2019, he is 48 years old and his horoscope is Leo.
His parents are Sam Sampras (father) and Georgia Sampras (mother).
He grew up with his three siblings, Stella, Marion, and Gus Sampras.
He completed his education from the Palos Verdes High School.
Pete holds an American nationality.
He started his career at the age of 16 in the year 1988.
Pete has an estimated net worth of around $150 million.
He married his wife Bridgette Wilson on 30th September 2000.
Pete has two sons, Christian Charles Sampras, and Ryan Nikolas Sampras.
He stands at a tall height of 6 feet while his body weight is around 77 kg.