Madison De La Garza is an emerging child actress who grabbed media fame by playing Juanita Solis on ABC's Desperate Housewives from 2008 to 2012. She is also popular as the daughter of American actress, Dianna Lee Smith and the half-sibling of popular singer and songwriter, Demi Lovato.
Early Life of Madison De La Garza
Madison De La Garza was born on December 28, 2001, in Dallas, Texas, United States. As of 2023, Madison is 21 years old. Her zodiac sign is Capricorn. Every year, Madison celebrates his birthday on the 28th of December. Madison Rose De La Garza is her real name. Madison is the daughter of Dianna Lee Smith (mother) and James Edward "Eddie" De La Garza (father). Her father is a manager while her mother is an actress by profession.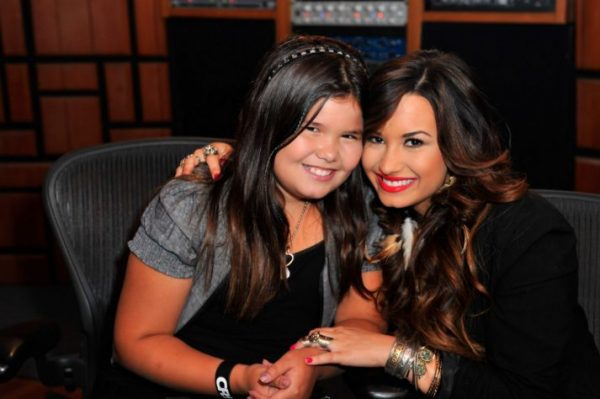 Her mother Dianna was previously married to Patrick Lovato. Patrick is a musician and the father of Demi. Dallas Lovato and Demi Lovato are her half-siblings. Demi is a singer and songwriter by profession. Dallas is also an actress. Madison's maternal grandparents are Donald Lee Smith and Sue Dianne Emmons.
Madison holds American citizenship and belongs to Mexican, English, Scottish, Scots-Irish/Northern Irish ethnicities. She follows the Christianity religion. She is studying at Cape Coral High School.
Madison De La Garza's Relationship
She is single at the moment. Madison is yet to flourish in her love life. At the moment, she is focussing on her acting career.
Madison De La Garza's Net Worth
Garza has an approximate net worth of $5 million as of 2023. Madison is able to earn this hefty sum of money as an actress. $49,801 to $73,801 is the average annual earnings of Madison as an actress.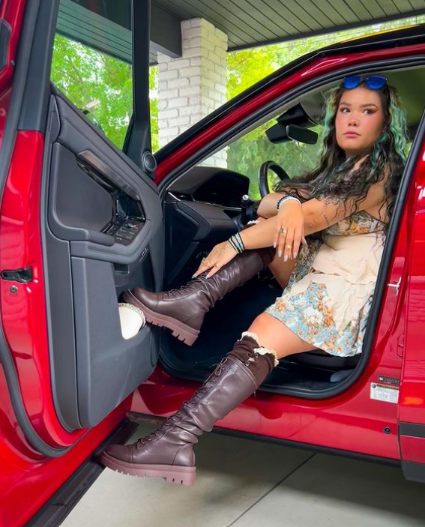 Her half-sister, Demi has a net worth of $40 million. This is the outcome of her career as an American singer and has an annual salary of $3 million.
Madison De La Garza's Journey to Sobriety
Yes, Madison is sober. She is on her journey of recovery from drinking. She has been sober for 255 days and said that she would do anything for her sister, Demi. From her mother, she got the inspiration for sobriety. In an interview, she said:
"I went through a lot of things last year that made me want to stay in bed, made me want to hide from the world."
She added:
"My best friend was substances, and it disconnected me from those around me.When I realized it started to affect my relationship with not only my friends but specifically my relationship with my mom, that's when I knew I had to make a change."
Madison De La Garza's Height & Tattoos
Madison has a tall height of 5 feet 5 inches and a body weight of 75 kg. 37-34-38 inches is her body measurement. Madison has a beautiful pair of dark brown color eyes and her hair is black in color. 14 (US) is her dress size and her bra size of 36 A.
At the age of 15, she pierced the septum and carved tattoos. She has carved a huge face of women on her shoulder.
Madison De La Garza Cyberbullied for Weight on Show
Madison was bullied when she was only 6 years old. She got bullied in her school because of her weight. Madison used to get some similar messages/warnings online. People were commenting on her bad in an atrocious way for her weight. Without concerning her health problem people were commenting on her body weight rather than her role on Desperate Housewives and she said:
"The reactions that I got to my character on Desperate Housewives, I mean, it was just shocking. A lot of people came at it in a way that they were quote-unquote concerned for my health. I personally believe that that's just not true. That it was a cover-up so that they could just judge a 6-year-old."
Even though her parent limited her time to online activity, she used to read a comment on popular sites like Teen Gossip, TMZ, and so on. She was even called a fat ugly cow and people even commented she would get cancer and die because of her weight. But, she mentioned that her crewmates were so supportive of her even though they knew about her online harassment and they didn't let her feel that way on the set. They used to give the dresses that she feel comfortable with rather than the demand of content.
Madison De La Garza's Career
Madison is an actress by profession.
She also made an appearance in the 13th episode of the reality television series Jonas Brothers: Living the Dream, in 2008.
She played the role of Juanita Solis on Desperate Housewives.
Later, she appeared as a younger version of her half-sibling Demi Lovato in Cookie Monsters.
She played the role of Kelsey in the series named Bad Teacher.
She co-directed a short film named Pink Elephant and later directed a short movie named Subject 16.
Movies & TV Shows
Some of her popular tv shows are Jonas Brothers: Living the Dream, Desperate Housewives, and Sonny with a Chance. She also played in Princess Camera Girl, Demi Lovato: Stay Strong, and Good Luck Charlie.
FAQs of Madison De La Garza
What happened to Madison De La Garza?
Madison suffered from scoliosis. Because of this, her spine shape is affected. Due to online harassment and cyberbullying, she developed an eating disorder. She starved herself when she was only 7 years old.
How old was Madison De La Garza in Desperate Housewives?
Madison was only 6 years old when she played in Desperate Housewives. She played the role of Juanita Solis in the series. The series was aired in 2004 and altogether has 8 seasons.
Does Madison de la Garza speak Spanish?
Yes, Madison can speak Spanish. She has also posted herself speaking Spanish on her Tiktok account.
Is Madison De La Garza related to Demi Lovato?
Yes, Madison is related to Demi. Madison is the half-sister of singer, Demi Lovato. Demi and Madi are busy with their upcoming project. Demi is making her debut in film direction with a documentary named Child Star while Madi is busy writing, producing, directing, and starring in the upcoming short film Delaying Angels.
Are Madison De La Garza and Eva Longoria related?
No, Madison and Eva aren't related in real life. Madi has played the role of Eva's daughter in the series, Desperate Housewives.
Is Madison De La Garza Mexican?
Yes, Madison is a Mexican. Her mother, Dianna is a Dallas Cowboys Cheerleader while her father is a former country singer.