Who is American Professional Surfer Kelly Slater Wife? Who is He Dating Currently? Past Relationship & Hookups
Here are all about Kelly Slater's relationship history from famous celebrity romances to his girlfriend. This is his dating history all the way to the present. Rightly so, Kelly was involved in a good number of relationships in the past.
Even before his dating story got known to the public, he had been involved with other women much earlier in his life.
Who is Kelly Slater Wife?
Kelly Slater is currently unmarried and yet to his girlfriend Kalani Miller as his wife officially. His future wife, current girlfriend Kalani is a model and designer. He with his future wife has been in a relationship for more than five years now.
His girlfriend was born in California but her mother, Charlene, is from Hawaii while Jim Miller, her father, is a native of California. She was brought up in a family that supports surfing and enjoys the sea.
Miller has a number of popular models, surfers, and bloggers friends including Nadia Fairfax and Malia Manuel. She completed a degree in communications at the University of California Santa Barbara in Santa Barbara, California.  Kalani and her Oleema are skilled artist and thriving entrepreneur who has run the online swimwear boutique which is familiar with MIKOH.
Caption: Kelly Slater with his girlfriend, Kalani
As per the source, when Kalani spotted in Sydney with an engagement ring on her ring finger which has created exciting rumors of a possible wedding. However, the couple has not confirmed their engagement yet. Since then, nothing more has heard about the couple settlings down as husband and wife. As of now, they are maintaining a good relationship and living a blissful life together.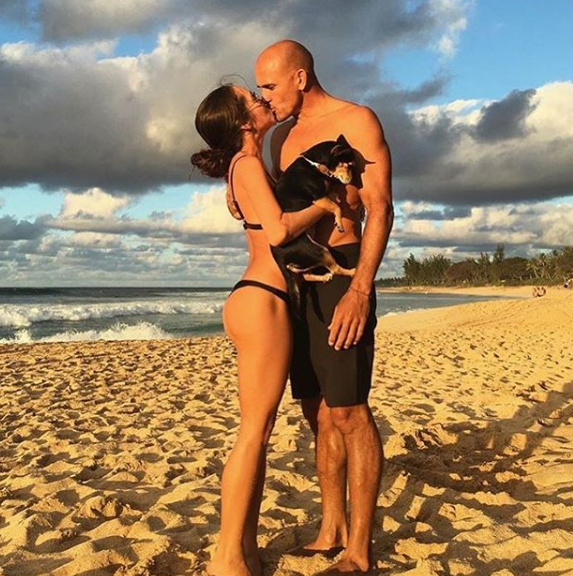 Who is Professional Surfer Dating Currently?
Currently, Kelly Slater has been dating American designers and models, Kalani Miller for over five years. Previously, he has dated some iconic and beautiful famous women. Let's take a look at his past dating history below:
1. Cameron Diaz (2007)
Before meeting and settling in a longterm relationship with Kalani, Kelly was named among the five coolest athletes of all time who dated another woman that many have considered among the beautiful women ever named Cameron Diaz. Diaz was born on August 30, 1972, who is a retired American actress, writer and former model.
The relationship between the two kicked-off in the year 2007, shortly after Diaz and Justin Timberlake ended their relationship. Somehow, Kelly and Cameron did not get to last a long time as a couple; it all came to an end in the same year it started.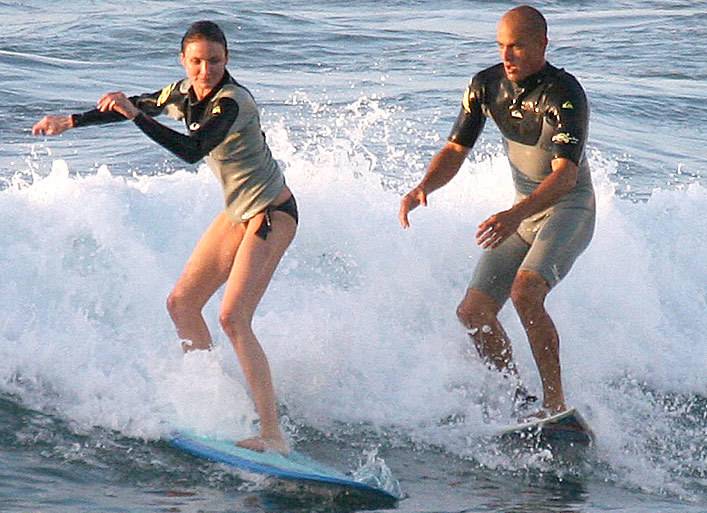 All the time Diaza was seen in comedies throughout her career, however, she is recognized critically in dramatic films.  She got selected for four Golden Globe Award nominations, three Screen Actors Guild Award nominations, and a New York Film Critics Award. In the year 2013, she became the highest-paid actress over 40 in Hollywood.
2. Gisele Bundchen (2005 – 2006)
Before Diaz, Kelly was in a romantic relationship with the Brazilian model, Gisele Bundchen in the year 2005. Unfortunately, their relationship did not get to last more than eight months before it came to an end in 2006. Before they met, Gisele dated Leonardo DiCaprio for quite a long time.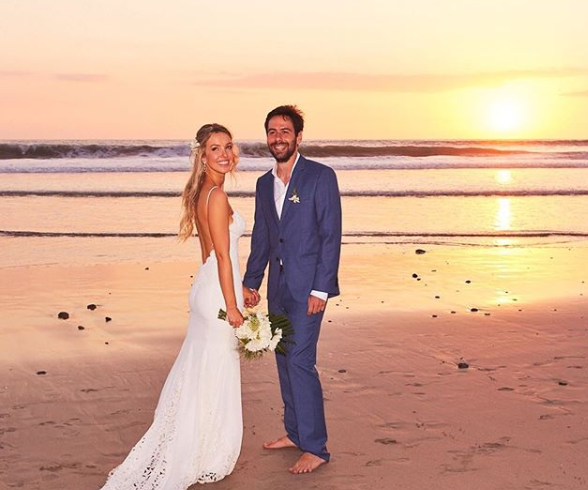 Bundchen is an international supermodel and former Victoria's Secret Angel who gave the credit to covers of Vogue. In 2014, the model became the highest-paid model in the fashion industry.
3. Pamela Anderson (1998 – 2000)
Another woman that Kelly dated even before he got linked to Cameron and Gisele is Pamela Anderson. Kelly and Pamela started dating in the year 1998. They made a rather nice couple and although things were not the smoothest for them, they managed to sustain their affair for two years before finally breaking up in the year 2000.
Caption: Kelly Slater with his ex-girlfriend, Pamela Anderson
After they broke up, Kelly revealed in an interview that he had no guilt against the actress and model with whom he had an on-and-off relationship. Instead, he said that he got to learn a lot from the relationship.
Bundchen, Baywatch comedy action film star who worked as a Playboy model of the month. After completing secondary school, the actress started working as a fitness instructor in Vancouver. She has appeared more than 30 television shows.
From the year 1995 to 1998,  Anderson was wedded to Tommy Lee before marrying Kid Rock in 2006. The couple did divorce in the year 2007, she again married Rick Salomon. The TV actress filed the divorce in 2014. She is the mother of two sons, namely Brandon and Dylan.
4. Tamara
Tamara is also famous as the girlfriend of Slater, whom he has kept out of media's coverage. The couple has raised a daughter together named Taylor. Later, they broke up but the reason behind their separation is still missing from the media.
Who is Kelly Slater's Daughter?
Kelly has a teenage daughter named Taylor Slater. She was born on 6th June 1996, in the United States of America. However, she had raised by Kelly and his ex-girlfriend, Tamara. Taylor is an artist and she does her art exhibition time to time and gains lots of name and fame as well.
Caption: Kelly Slater with his Daughter, Taylor
Also, she has a good relationship with her father. As of now, she is living happily with her father and his girlfriend, Kalani.
Tagged:
American Surfer