An American actress and singer, Jennifer Lopez is making fun of her husband Ben Affleck's viral facial expressions at the 2023 Grammy Awards. Ben's viral moment produced several memes all over the internet.
Jennifer Lopez shared Ben Affleck's latest movie trailer, AIR on her Instagram but she made fun of his expression at the 2023 Grammy. She wrote:
"My husband's happy face,"
She showed her excitement through her caption. She wrote:
"AIR … cannot wait!'
After some time, her posts were flooded with a lot of funny comments. Many of his fans made memes out of it. Some wrote:
"CAPTION QUEEN"

"Crying at the caption in the video,"
Jennifer replied to one of their admirer's comments saying:
"This is my husbands happy face took me out tho"
When Jennifer presented an award for the best pop vocal album to the winner of Harry Styles, her husband Ben looked bored on camera. Every live broadcast captured his moment and made jokes of his expressions even his wife made fun of it.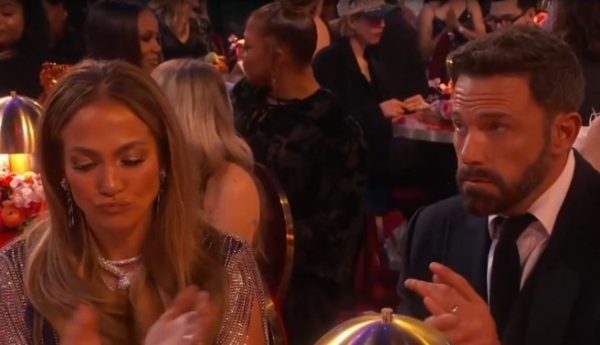 During the event, Jennifer and Ben sat next to Dwayne "The Rock" Johnson and his wife Lauren Hashian in Los Angeles. They were smiling for every picture and it seemed they really every performance that evening.
Their couple video was shared by their separate fan page where they captioned:
"Ben Affleck is every introvert everywhere. You can see his batteries draining in real-time. Man is already at 23% #GRAMMYs #SaveBen,"
Ben is not just the director of the movie, AIR but he is also starring there as Nike co-founder Phil Knight. Along with them, there are other actors, Jason Bateman, Chris Messina, Marlon Wayans, Chris Tucker, and Gustaf Skarsgård.
"This moving story follows the career-defining gamble of an unconventional team with everything on the line, the uncompromising vision of a mother who knows the worth of her son's immense talent, and the basketball phenom who would become the greatest of all time," an official synopsis for the movie reads.