An American author, and journalist, Jenna Bush Hager is in the media limelight as the co-host of Today with Hoda & Jenna. She became famous as the daughter of George W. Bush, a 43rd U.S. President.
Her appearance on NBC News Today as an assistant correspondent made her popular in the journalism world. 
Early Life of Jenna Bush Hager
On November 25, 1981, Jenna came to the Universe in Dallas, Texas, United States. As of 2023, Bush is 41 years old. Jenna cuts her birthday cake on the 25th of November with her close ones. Her birth sign is Sagittarius. Jenna Welch Bush Hager is her real name. Jenna was born as the daughter of Laura Bush (mother) and George W. Bush (father).
Her father was the 43rd President of the United States while her mother works as a teacher. Jenna's paternal grandparents are George Herbert Walker Bush and Barbara Pierce while Harold Bruce Welch and Jenna Louise Hawkins are her maternal grandparents. Her twin sister, Barabara Bush is an Americana activist by profession.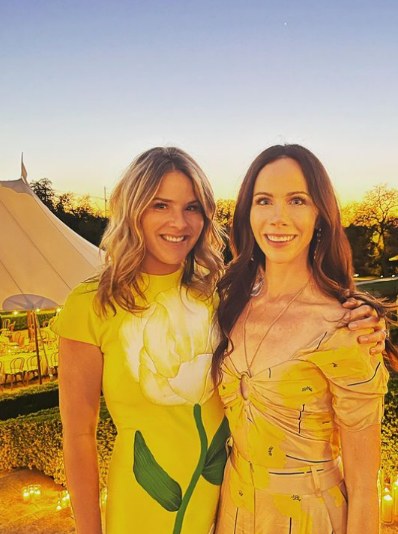 By nationality, Jenna has citizenship in America. Jenna belongs to the English, some French and German, small amounts of Scottish, Scots-Irish/Northern Irish, Welsh, Irish, Dutch, Swedish, and Belgian [Flemish], distant Swiss-German, and 1/512 Moravian ethnicities and follows the Christianity religion.
Education of Jenna Bush Hager
Hager joined Preston Hollow Elementary School. After that, she joined  The Hockaday School. After moving to Austin, Texas, she joined St. Andrew's Episcopal School. She joined Austin High School in the year 1996. After four years she graduated in 2000.
She attended the University of Texas in 2001. Jenna graduated holding a bachelor of degree in English in 2004. She also joined the University of New York for a summer class.
Jenna Bush Hager Got Charged
She was charged because of a misdemeanor on May 29, 2001. Jenna attempted to use a fake ID to purchase alcohol. After that, she pleaded for no contest.
Jenna Bush Hager's Husband
Jenna's husband is Henry Hager. By profession, Henry is the Managing Director at Waterous Energy Fund. Henry and Bush met each other for the very first time in their family meeting. After some time, Henry and Bush started dating each other and engaged in August 2007. He even asked Jenna's father for permission to marry his daughter.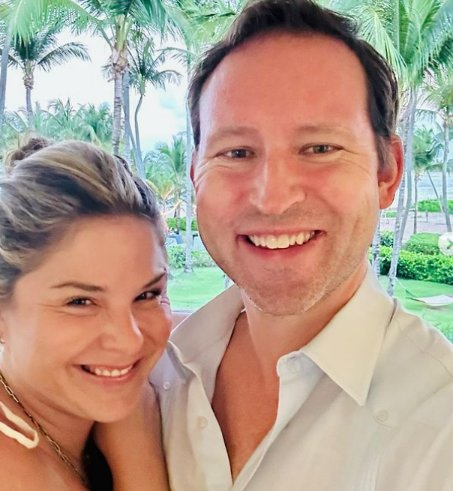 As a couple, they appeared at a White House dinner in November 2005. On 10th May 2008, Jenna and Henry walked down the aisle in presence of their close ones at Prairie Chapel Ranch.
Jenna Bush Hager's Past Relationship
Jenna dated Ramiro Palazzo. Ramiro and Jenna dated each other for a few months in 2006. In 2001, she and William Bridges dated each other.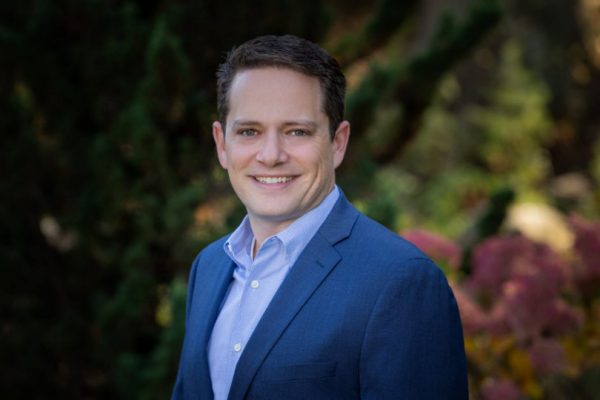 William and Jenna only dated each other for years. In 2002, Jenna and William parted ways. From 1995 to 1996, she was in a relationship with Blake Gottesman. 
When she was in seven grade her then-boyfriend break up with her when he saw her in a swimsuit. She addressed her body shaming issue when she discussed Ariana Grande's point of view on body shame.
Jenna Bush Hager's Children
Jenna is the mother of two daughters and one son. She welcomed her three children with her husband. The name of her children is Mila Hager, Hal Hager, and Poppy Louise Hager. Mila was born on 13 April 2013. She was born three and a half weeks early when Jenna was taking exercise and doing SoulCycle. Then, she went to attend her baby shower and her water broke while she was opening presents.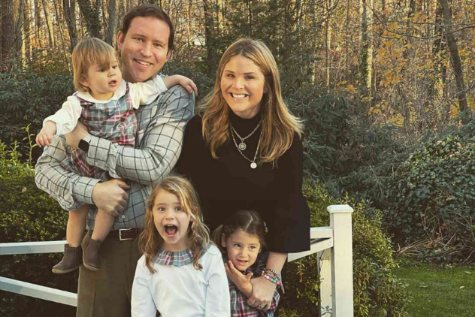 Jenna arrived at her baby shower right after her exercise. At the time opening gifts at the party, she suddenly felt that her water broke:
"I felt like my stomach was going blop, and somebody across me goes Girl, you're going to have that baby right now. And then it was like, three, two, water break."
After her water broke everyone became panicked and the environment is filled with laughter plus tears plus confusion. Her husband even thought it was a prank. Then, Mila was born in the hospital at 8:43 pm on Saturday in New York City.
Poppy was born on August 13, 2015. At the time of birth, she was 7 lbs., 9 oz. and measuring 20.5 inches. Her name, Poppy is after Jenna's grandfather.  Hal was born on August 2, 2019. He was only 7 lbs., 5 oz. and measured 19.29 inches at the time of his birth. He was named after his father and paternal grandfather.
Jenna Bush Hager's Net Worth
As of 2023, Jenna has a net worth of $14 million. This is the outcome of his career as an American author. She has an annual salary of $4 million.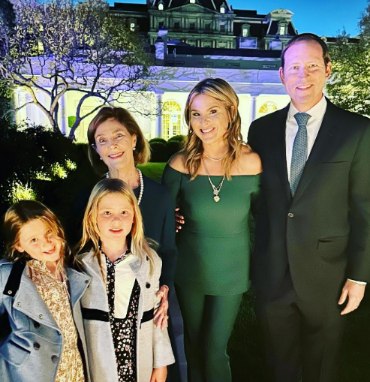 Jenna Bush Hager's Apartment is on Sale
She listed her New York City apartment for a sale. The market value of the apartment is $5.375 million. It is located n the heart of Manhattan and covers 2,500 square feet with four bedrooms. The apartment boasts a large open-plan living and dining room with a wall of windows followed by a primary bedroom suite.
Jenna Bush Hager's Height
Hager has a height of 5 feet 8 inches and weighs 55 kg. Her body measurement includes 32-28-38 inches and wears a shoe size of 10 (US). She has blue-gray colored eyes and his hair is also golden blonde.
Weight Loss Journey of Jenna Bush Hager
Jenna lost her weight through regular exercise, meditation, and diet. She even did a breathing exercise every morning and started her day with water, coffee, and green juice.
Jenna also did intermittent fasting and used to have a glass of water with Grass Green Superfood Powder. She even adds two servings of fruits and vegetables in addition to a glass of water. For workout sessions, she used to do peloton, cardio, and weightlifting.
Jenna Bush Hager was Replaced By Willie Geist for A Day
She wasn't replaced by Willie Geist for a day. Willie co-hosted in the absence of Hodda with Jenna. He was praised by the viewers and said:
"Thank you for having Willie be your co-host Jenna, I love when he is on!!! I like [Jenna] with Willie too, Nice show! Willie is great."
Jenna and Hodda have been absent for many days so Sheinelle and Craig hosted the morning's, Today Show.
Jenna Bush Hager's Professional Career
Jenna is an American news personality, author, and journalist by profession.
She made her involvement in her father's presidential campaign in 2004.
In August 2004, she made a speech at the Republican Convention and even got featured in a seven-page interview and photo shoot in Vogue.
She worked at the Elsie Whitlow Stokes Community Freedom Public Charter School as a teacher aide in 2006.
After working as a teacher for one and a half years she started working at UNICEF's Educational Policy Department as an intern.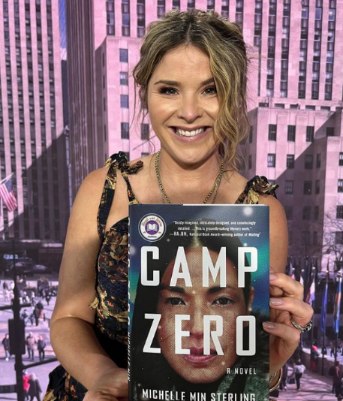 Her second book, Read All About It! was published in April 2008.
Hager was appointed as a contributor and correspondent for the Today Show in August 2009.
Books
She published books like Our Great Big Backyard, Sisters First: Stories from Our Wild and Wonderful Life, Everything Beautiful in Its Time: Seasons of Love and Loss, and The Superpower of Sisterhood.
Jenna got the opportunity to sign with Universal Studio Group, in February 2022.
She released a book named Ana's Story: A Journey of Hope in September 2007.
FAQs of Jenna Bush Hager
How much does Jenna Bush get paid on the Today Show?
Jenna earns an annual salary of $4 million. She gets on the Today Show as a correspondent. The show is being aired since 2008.
Is Jenna Bush Hager a member of the Republican Party?
No, Jenna is not a member of the Republican Party. She declared herself an independent by casting vote for the Independence Party of New York. even though it was a mistake but she still chose to be with the Independent party.
Does Jenna Bush Hager have a Tattoo?
Until now,  she didn't reveal her tattoos, but fans speculate that she has hidden tattoos on her back.  On April 4, 2023, when she danced with Hoda fans believed that she might have a tattoo on her back.
Why did Jenna Bush Hager subtly shade the Kardashians?
Jenna subtly shades the Kardashian because she was calling out people for applying filters on their photos by saying:
"Y'all, are we turning everybody into a Kardashian? Is that the point?"
She also said that applying filters made people fake when she was discussing trends with guest Michelle Collins. They discussed the topic of classifying and ended up shading Kardashian.
Is Jenna Bush Hager related to President Bush?
Yes, Jenna is related to President Bush. She is the daughter of President Bush. Her father, Bush was elected as the 43rd U.S. President.
Does Jenna Bush Hager still have security?
No, Jenna doesn't have security. As her father is a veteran and is not serving as the President of the USA, she might not have security. But if she wasn't she can have security service.
Did Jenna Bush have an eye injury?
Yes, Jenna has an eye injury. Even her eye injury didn't stop her from hosting the TODAY show on Thanksgiving.