Iam Tongi is an American singer who got the media hype after winning American Idol's 21st season. Tongi became the first Hawaii-born Pacific Islander to win the American Idol. Tongi's single I'll Be Seeing You made him gain name and fame in the Singing world. He is a singer of songs like Dream, Trust Me, Efafi, and Gone. He even earned the title of one of the first non-country singers to win the show.
Early Life of Iam Tongi
Iam Tongi opened his eyes for the very first time on September 1, 2004. Tongi is a native of Kahuku, Hawaii, USA.  As of now, Tongi is 19 years old. Tongi cuts his birthday cake on the 1st of September and his birth sign is Virgo. His full name is William Iam Tongi. Tongi's parents are Rodney Guy (father) and Lillie N Rodney Tongi (mother). His father was also a musician.
He spent his early life with his four siblings, Cassandra Alvina Tongi Mortensen, Jennifer Tongi, Lerod Tongi, and Sitaleki Tongi. Iam has American citizenship and he belongs to mixed (Tongan, Samoan, and Irish) descent.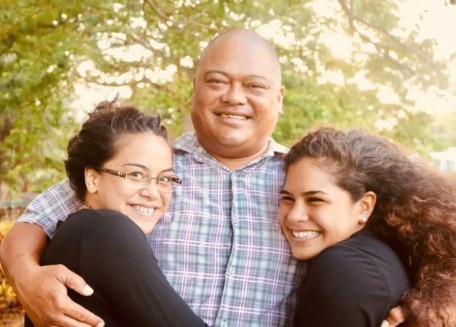 Iam follows the Christianity religion. Tongi joined Kahuku High & Intermediate School. He is currently studying as a senior student at Decatur High School in Washington State. His school also wished him good luck through their Facebook page:
"Go Iam! You have Gator support behind you and we couldn't be prouder of you sharing your gift with the world! Yitadee!"
Iam Tongi is a Single Guy
Tongi is single and he is only 19 years old. As of now, Tongi is focussing on his singing career rather than being involved in any sort of rumor and controversies.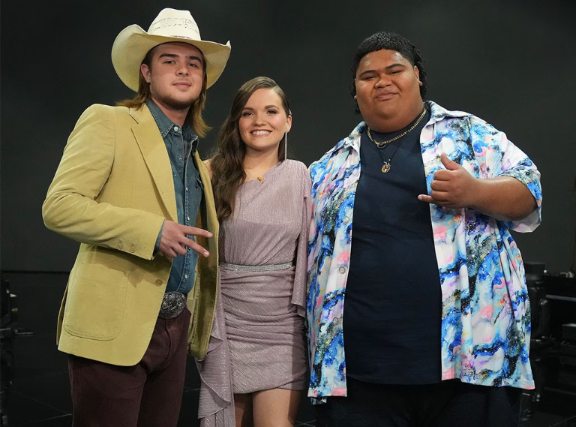 Iam Tongi's Net Worth & Salary
Tongi has an estimated net worth of $800k as of 2023. This is the outcome of his career as an American singer.  He won $250k as prize money after winning the 21st season of American Idol.
Caption: Iam Tongi infront of his house (Source: Country Now)
Katy Perry Reacts to Ian Tongi's Win
Katy responded with happiness and joy, she said:
"May I say just one thing? I had to get a tissue and fold it into a triangle to sit between you and Megan [Danielle] because every time you sing, the vibration that emanates from your mouth weeds people's souls and simply touches them. It affects us so deeply. Consequently, when you sing, I'm ready to feel, sweetie."
She further added:
"I see absolutely authentic talent, a massive heart and I see someone who is born for this,"
Iam Tongi's Singing career
Tongi released his solo single named I'll Be Seeing You.
Tongi was only in the fifth grade when he started taking ukelele sessions from his teacher.
After some time, he became a skilled guitarist and ukulele.
He auditioned on the 21st season of American Idol in February 2023.
Tongi sang James Blunt's song, Monsters as a tribute to his father, during his audition on American Idol.
In 2020, he released his song titled, Dreams and the song's inspiration came from his sister's love story.
He has also written folk-indie love songs.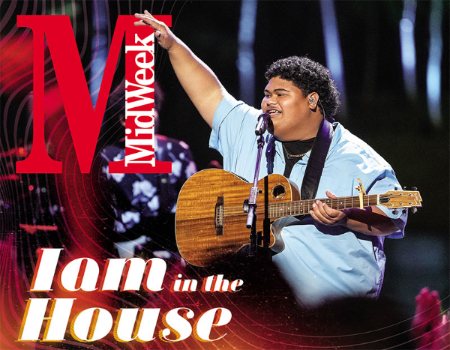 Tongi was able to perform in front of the superstar judges Luke Bryan, Lionel Richie, and Katy Perry.
He said that he likes to mix country, alternative, and island genres for one song in October 2022.
He became one of the 55th participants to be selected in the second round of auditions and has sung Simon & Garfunkel's, The Sound Of Silence.
In the finale episode, he sang I'll Be Seeing You and won the show against fellow competitors Megan Danielle and Colin Stough on May 21, 2023.
Songs
Tongi's popular songs are Dream, Trust Me, Efafi, and Gone. He also sang songs like I'll Be Seeing You, The Sound Of Silence, and so on.
FAQs of Iam Tongi
What happened to Iam Tongi's Father?
Tongi's father left this Universe due to stage 4 kidney disease on December 28, 2021. When he auditioned for the 21st season of American Idol, he sang James Blunt's song, Monsters as a tribute to his father.
Did Iam Tongi make it?
Yes, Iam make it and became the winner of the 21st season of American Idol. He won the finale against Megan Danielle and Colin Stough.
How tall is Iam Tongi?
Tongi has a tall height of 5 feet 7 inches and weighs 104 kg. Iam has a mesmerizing pair of black colored eyes and his hair is also black in color.
Does Iam Tongi have an album?
No, he doesn't have an album. Tongi will be releasing his album after three months after winning the show.
Is Iam Tongi related to Israel Kamakawiwo'ole?
No, Tongi isn't related to Israel Kamakawiwo'ole. Both of them are singers by profession. Tongi only sounds like Kamakawiwo'ole while singing.
Did Luke Bryan and Lionel Richie cry in his audition?
Yes, Luke and Richie cried in his audition. The way Iam sang the song, Monster dedicated to his late father, made Katy Perry emotional as well. Richie commented him saying:
"I was not worried about whether you would make it through the song. I was worried about whether we would make it through the song."