Elizabeth Huberdeau was previously married to wrestler, John Cena till 2012; Who is She Currently Dating?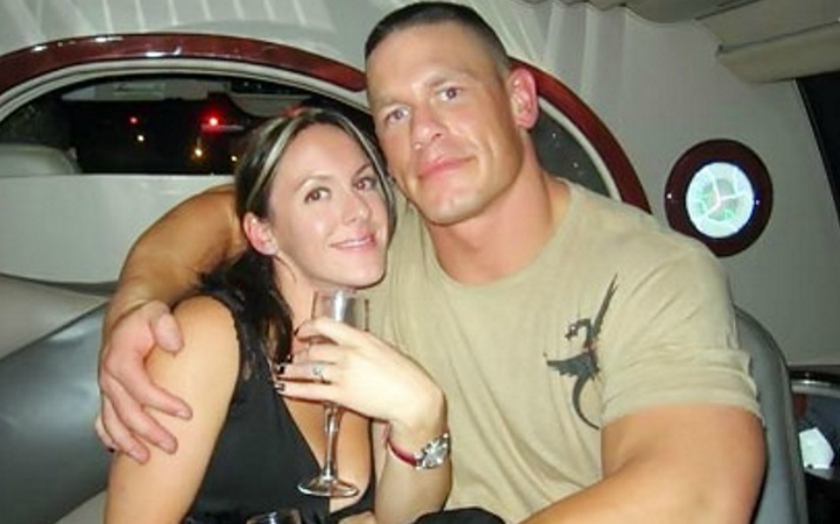 Elizabeth Huberdeau came to the media spotlight for being the ex-wife of WWE wrestler, John Cena. She hasn't gained popularity for any of her profession but is only known for her relationship with her ex-husband. However, Elizabeth is a former model and currently works as a field of real estate businesswomen.
Following the stressful married life, Elizabeth and John divorced in the year 2012. After the separation, John dated Nikki Bella, a fellow WWE star from 2012-18. As of now, Elizabeth is in a romantic relationship with her new boyfriend. Let's find out.
Is Elizabeth Huberdeau Dating Someone?
Elizabeth Huberdeau prefers to maintain privacy in her personal life and is avoiding the media spotlight. According to some online sources, she is currently enjoying her life with her new boyfriend, Eli Ayoub. Though they are staying away from the limelight and rarely appear in public. For some reason, they want to keep their affair only to themselves.
Caption: Elizabeth Huberdeau with her boyfriend, Eli Ayoub
As of now, Elizabeth hasn't openly spoken addressing her romantic relationship with Ayoub. She is so much in love with her boyfriend. Hopefully, the couple is happy together. Apart from her love relationship, she is concentrating on her professional career and is doing a good job in real estate.
High School Sweethearts to Couple John Cena's ex-wife Elizabeth Huberdeau's unsuccessful Marriage
Elizabeth Huberdeau was previously married to WWE wrestler, actor, and rapper John Cena. The couple met each other during their high school days. After their first encounter, they fell for each other and began dating. Later, the couple decided to take their relationship to the next level and finally engaged in the year 2009. John mentioned about their engagement while promoting hiѕ 2009 film, 12 Rounds.
Caption: Elizabeth Huberdeau with her ex-husband, John Cena
After a few months of their engagement, the couple shared their wedding vows on 11th July 2009. Their wedding ceremony was held in Boston, Massachusetts. However, the things didn't go well in between the couple so the couple divorced in the year 2012 just after two years of their marriage. From their relationship, the couple does not have any children.
After their separation, John Cena began dating his girlfriend, Nikki Bella. The couple engaged in the year 2012 however, they called off their engagement after six years in 2018. His girlfriend, Nikki is an  American professional wrestler, model, actress, and businesswoman.
Elizabeth Huberdeau's Divorce Issues with John Cena
After a few years of Elizabeth and John's marriage, there grew some complications. Huberdeau felt her husband, Cena was messing around with their marriage and was cheating on her. So, Elizabeth and her Lawyer searched for solid evidence of his unfaithfulness but not much happened and a few weeks later the couple reportedly resolved things privately.
Regarding their intricate conjugal life, John admitted he was focused more on his professional wrestling rather than his personal life. Even though the couple tried their best to save their marriage, in the end, they drifted apart due to some misunderstandings. Their divorce finalized on 18th July 2012 making headlines on several media.  At the time of divorce, she received a huge stack of money from the settlement.
Does Elizabeth Huberdeau have a Kid from Ex-Husband, John?
Elizabeth Huberdeau's three-year-long marriage to John Cena ended without an offspring to show for it. Even when they were in a relationship during their high school days, there were no reports of the couple expecting any child. John never wanted a child, instead, he prefers a family of just two people and nothing more than that. Also, John has related how he feels when talks about raising children saying he feels as if there's a time bomb over his head, regarding the discussion.
The issue about children was also one of the reasons for his separation from Bella. According to some resources, Nikki Bella was vocal about her desire to become a mother but during their intimate discussions, John simply responded by saying he would be unable to grant her that since he didn't want kids.
Elizabeth Huberdeau's Quick Facts
Elizabeth Huberdeau was born on 28th September 1979 in West Newbury, Massachusetts, the United States of America to the American parents.
As of 2019, she is 40 years old and her horoscope is Libra.
Elizabeth holds an American nationality and belongs to North American ethnicity.
She attended the Central Catholic High School and Cushing Academy.
Currently, Elizabeth is in a romantic relationship with her new boyfriend, Eli Ayoub.
Elizabeth is not active on any social networking sites such as Facebook, Instagram, and Twitter.