Is Penn State Nittany Lions's Footballer, Carl Nassib Single or Married? Did Carl Nassib have Girlfriends? Rumored to be Gay?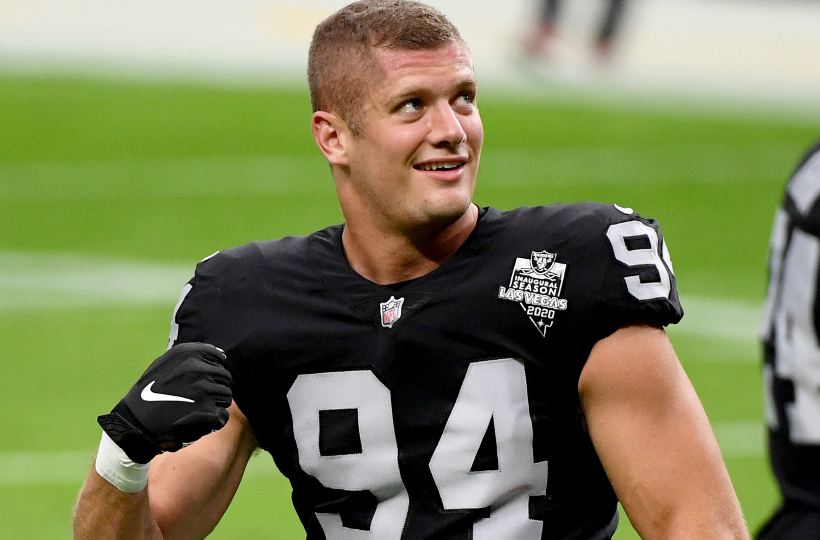 American football defensive end Carl Paul Nassib came into the spotlight as being the free agent who played college football for the Penn State Nittany Lions. He successfully earned unanimous All-American honors as a senior in the year 2015.
As being a popular football player, many football fans and the audience are curious to know more details about the personal life of Carl Nassib. In this article, we will be discussing his wife, girlfriends, his family, and other details of his personal life. 
Who is Carl Nassib's Wife?
Carl Nassib is an unmarried man so he does not have a wife. However, he has revealed that he is involved in a romantic relationship. In the year 2021, he revealed that he is finally involved in a romantic relationship with a guy. He said:
"I met an awesome guy. He's the best."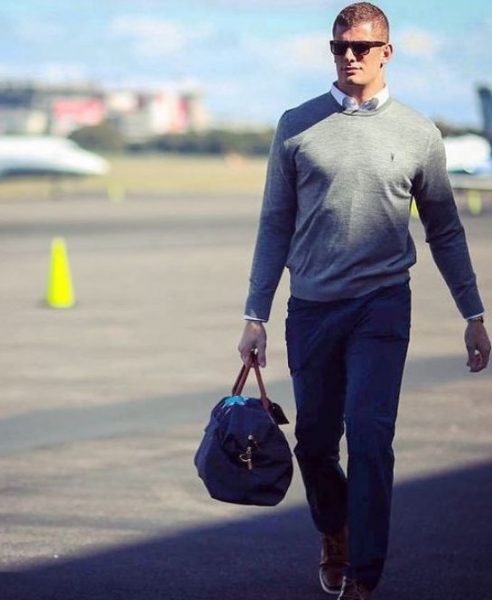 He even added:
"Late at night, you're just like, "OK, am I anyone's number one priority?" And that's just the one thing that I wanted. I just wanted to be someone's number one priority and I couldn't have that."

"But I got that now, so it's good."
Was Carl Nassib Rumored to be Gay?
On his official Instagram account, Carl posted a statement that states that he is gay. He became one of the first players in the history of the league to be publicly recognized as gay. In the year 2021, he said he realized four years ago that he is gay. He even mentioned that his friends and family were already known about this.
Did Carl Nassib have girlfriends?
Carl is currently in a relationship. The name of his boyfriend is Erik Gudzinas. Erik posts his boyfriend often on his official Instagram account. Till now Carl has not posted Eric on his social media but Erik is quite open in this matter.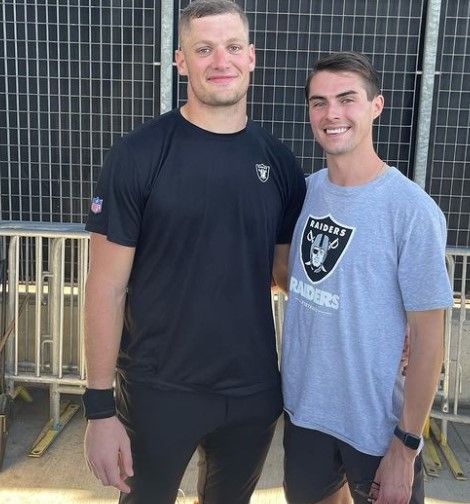 Carl has said that he met an awesome man about his relationship. And undoubtedly that awesome man is Erik.
Who is Carl Nassib Brother?
Carl has two brothers as his siblings. The name of his brothers is Ryan Nassib and John Nassib. Ryan is also an American football player who was born on March 10, 1990. Likewise, John was born on December 10, 1995. 
Nassib has two sisters as well. The name of his sister is Paige Nassib and Carey Nassib. Altogether he has four siblings.
Is Carl Nassib related to Ryan Nassib?
Carl and Ryan Nassib are siblings of each other. Both the brothers are football players. Ryan played as a quarterback in the National Football League. Whereas Ryan is an American football defensive end who is also a free agent. Ryan players for New Orleans Saints. He hit Tommylee Lewis with the 2-yard touchdown access while being flowed by his brother Carl,
Is Carl Nassib still playing football?
Carl is in the final year of his contract right now. He is joining the last year of his three-year contract next season. If he plays well in the final season then he might come back in the next season as NFL is totally unpredictable.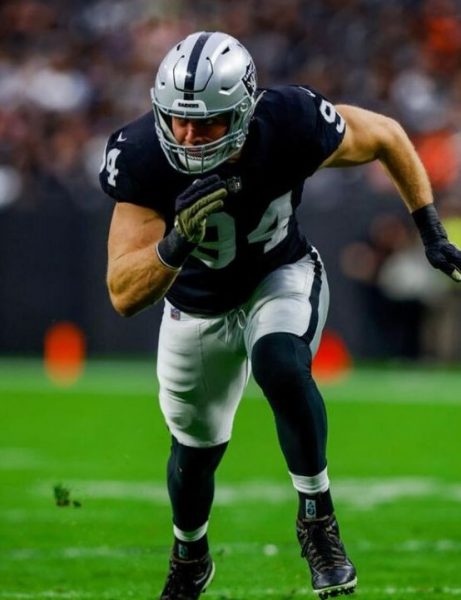 On the other hand, The Raiders have a coaching vacancy and in case the group cleans house, it will affect Nassib.
What Nationality is Carl Nassib?
Carl was born in West Chester, Pennsylvania, United States of America. So, he holds American nationality. However, the descents of Nassib are both Arab and American ancestors.
Where is Carl Nassib now?
Currently, Carl is playing for Las Vegas Raiders. He is playing in the position of Defensive end. Nassib did a deal worth $25 million with the Las Vegas Raiders on March 27, 2020. The duration of his contract is of 3 years. His contracts include the $16.75 million which is  guaranteed,
Quick Facts of Carl Nassib
Carl opened his eyes to this world on April 12, 1993, in West Chester, Pennsylvania, United States of America.
He celebrates his birthday on the 12 of April with his family every year.
Nassib belongs to mixed ethnic background and follows the Christian religion.
Carl falls under the sun sign of Aries.
Likewise, he has a height of 6 feet 6 inches and a weight of 111kgs.
He has eyes of blue color and blonde hair.
As of 2022, the estimated net worth of Nassib is $8 million approximately.
His basic salary is around $990,000 approximately.
Tagged:
American Football defensive