Barry Humphries, a native of Australia got media limelight as an Australian comedian, actor, author, and satirist. He got his major hit when he wrote and play Dame Edna Everage and Sir Les Patterson. His humor and dedication to entertainment made him earn the title of the most significant theatrical figure and the most significant comedian to emerge since Charlie Chaplin.
His first autobiography, More Please made him earn the title of J. R. Ackerley Prize for Autobiography in 1993. In 1982, he was The Officer of the Order of Australia.
Early Life of Barry Humphries
Barry Humphries opened his eyes for the first time on February 17, 1934. He was a native of Melbourne, Australia. He would be at the age of 89 years old if he was alive. Barry used to cut his birthday cake on the 17th of February and his zodiac sign was Aquarius. His full name is John Barry Humphries.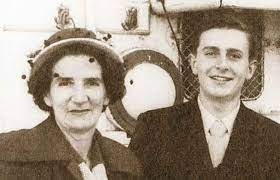 He was born as the son of a construction manager, Eric Humphries (father). His mother's name is Louisa Humphries. He spent his early life with two brothers and a sister. His siblings are Christopher Humphries, who is an architect, Michael Humphries, a teacher and historian, and a former school teacher, Barbara  Humphries.
By nationality, he had citizenship of Australia and belonged to the white ethnicity. He used to believe in Christianity religion.
Education of Barry Humphries
He joined Camberwell Grammar School. Barry also attended Melbourne Grammar School where he studied English and Art. He studied law, Philosophy, and Fine Arts for two years at the University of Melbourne. He received an honorary doctorate but didn't graduate from University.
Barry Humphries was Married Four Times
Barry was married four times. At the time of his death, he was living a happy married life with an American actress, Elizabeth Spender. They tied the wedding knot in 1990. They were living at a terraced townhouse in West Hampstead until Barry's death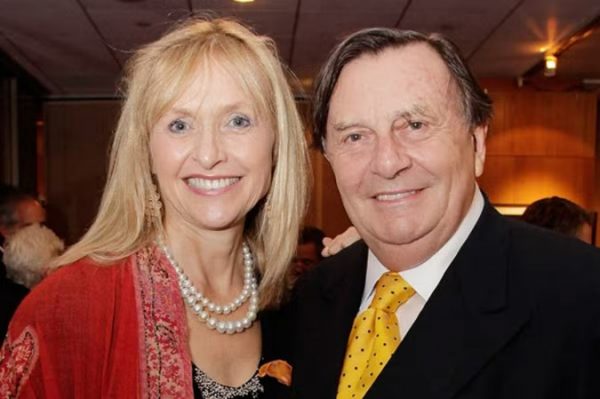 At the age of 22 years, Barry got married for the first time to a dancer, Brenda Wright who was 19. They exchanged the wedding knot in 1955. Barry was addicted to alcohol due to this they started having conflicts in their marriage. Just after two years of the marital bond they officially divorced in 1957.
Other Two Failed Marriages of Barry Humphries
His second wife is Rosalind Tong, a Newzealand native. Rosalind worked as a former ballet dancer. In 1959, Rosalind and Barry walked down the aisle in presence of their close ones. After staying as a married couple for 11 years they officially divorced in 1970. He stayed unmarried for further 9 years.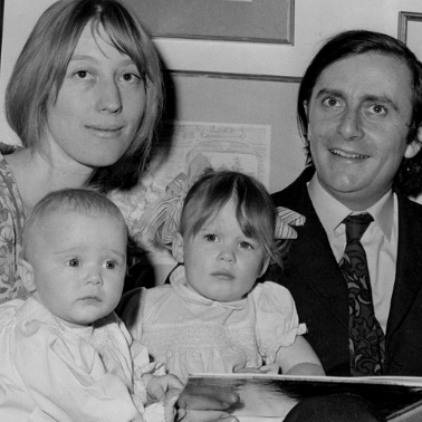 He was married to artist Diane Millstead for the third time. They walked down the aisle in 1979. But, only after 10 years of marriage they couldn't continue their marital life and got divorced in 1989.
Barry Humphries's Children
He was the father of four children, two sons, and two daughters. The name of his children is Oscar Humphries, Tessa Humphries, Emily Humphries, and Rupert Humphries. Barry shared two daughters, Tessa and Emily with his second wife while his sons were from his third wife.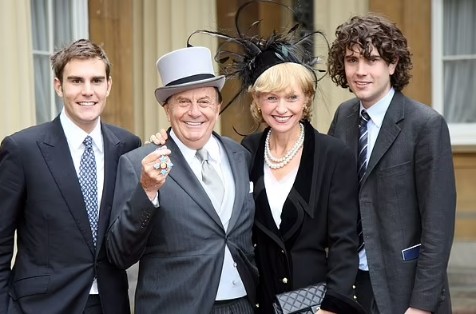 His son, Oscar is an Australian art and design dealer who was born on April 23, 1981. Barry's other son, Rupert works as a screenwriter while his daughter, Tessa is an American actress born in 1963. His other daughter, Emily was born in 1970. He was the grandfather of his ten grandchildren.
Barry Humphries's Net Worth
Barry had an estimated net worth of $12 million at the time of his death. He earned this amount through his successful professional career. His salary must be around $54,080 as it is the annual salary of a comedian.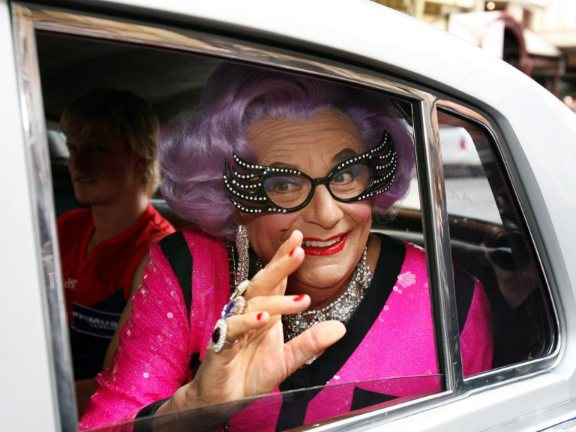 Barry Humphries Died at 89
He breathe for the very last time on April 22, 2023. Barry was only 89 years at the time of his death. He fell from a cliff and had hip surgery in February 2023. The main reason behind his death is complications from hip surgery. He became hospitalized when he suffered from surgery compilation at Sydney's St Vincent's Hospital. His family announced his death on Saturday saying:
"​He was completely himself until the very end, never losing his brilliant mind, his unique wit and generosity of spirit. was also a loving and devoted husband, father, grandfather, and a friend and confidant to many. His passing leaves a void in so many lives."
Barry Humphries's Height
Barry stood at the height of 5 feet 11 inches and weighs 75 kg. His body size was 46 inches. His eye color was brown in color while his hair was black in color.
The Journey of Barry Humphries's Professional Career
Barry was an Australian comedian and Actor by profession.
In 1953, he worked in the company named Melbourne Theatre Company (MTC) which was set up by John Sumner.
He got the opportunity to play the character of Edna Everage in the Olympic Hostes for a skit in 1995.
He made his acting debut in the film Bedazzled with a cameo appearance in 1967.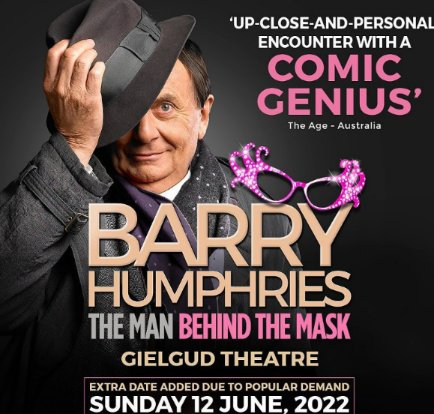 Later he appeared in movies, like Percy's Progress (1974), The Great Macarthy (1975), Side by Side (1975), and so on.
In 2003, he became a part of a film, Finding Nemo as Bruce, a voice actor.
He also lent his voice to a character like Great Goblin and Braulio in the movie named The Hobbit: An Unexpected Journey, Justin and the Knights of Valour respectively.
As a comedian, he performed at the Australian Chamber Orchestra for the program Weimar Republic Cabaret.
He announced his Farewell Tour in Australia on 22 July 2012.
In October 2013, he opened the show at the Milton Keynes Theatre and at the London Palladium and a national tour.
Movies & TV Shows
His TV shows and stage performances are An Audience with…, The Barry Humphries Show, The Dame Edna Experience, and Dame Edna's Neighbourhood Watch. He got the opportunity to play the role of Sir Les Patterson in the same shows like A Late Lunch With Les and Les Patterson and The Great Chinese Takeaway.
His popular movie is The Adventures of Barry McKenzie, Mary, and Max, Barry McKenzie Holds His Own, and El Hobbit: Un viaje inesperado.  He also played in movies like Blinky Bill the Movie, Bedazzled, The Naked Bunyip, and Shock Treatment.
Awards and Honours
In 1975, he won Douglas Wilkie Medal.
He also won Comedy Performance of the Year, Society of West End Management for his show, A Night with Dame Edna in 1979.
Melbourne City Council honored him with the Artists Award in 1997.
In 2017, King's College London honored him as a Fellow of King's College.
FAQs of Barry Humphries
Was Barry Humphries addicted to alcohol?
Yes, Barry had an alcohol addiction. Due to alcohol addiction, his professional, as well as a second marriage, came to halt in 1960. In addition to alcohol addiction, he had an addiction to sex as well. This addiction made him have an uncontrollable thirst for rare volumes of poetry. He even blamed that he suffered from addiction to his mother which inspired the title of Dame Edna.
Did Barry Humphries fall off a cliff?
Yes, Barry fell off a cliff. When he was playing the role of Sowerby in the movie, Oliver! fell from a 50-meter slope onto rocks. He was very lucky so he landed on a ledge 150 feet below him. Due to this, he even broke his arm in 1961.
Was Barry Humphries knighted?
Yes, he was knighted. His dedication and hard work in the entertainment industry made him his own award of honor by the Queen for his services.
Did Barry Humphries live in Australia?
Yes, Barry was a native of Australia and lived his entire life in his birthplace. He even lived for a few decades in London. He was also living in Australia until his last breath.
Is Allegra Spender related to Barry Humphries?
No, Allegra Spender and Barry are not related to each other. Even though both are a native of Australia, Allegra is an Australian politician and businesswoman while Barry was a comedian and satirist.