Is Andrew Luck Married? Who is he Dating Right Now?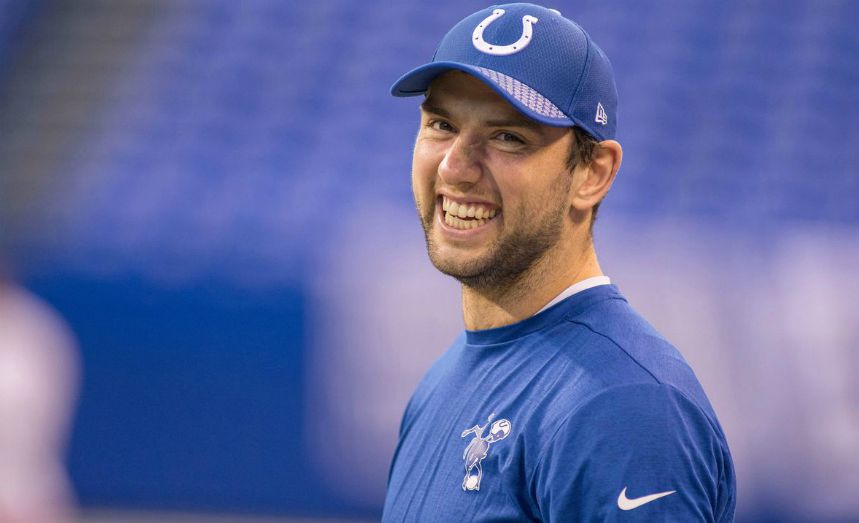 Andrew Luck is popular as an American football quarterback player. He played for the Indianapolis Colts of the National Football League (NFL). Moreover, he also played college football at Stanford. Previously, he was the runner-up for the Heisman Trophy in both 2010 and 2011.
Is Andrew Luck Married? Who is he Dating Currently?
Is Andrew Luck Married? Andrew Luck is an unmarried man but he is in a romantic relationship with Nicole Pechanec. Nicole is a former national champion gymnast from New Jersey. She started practicing gymnastics since her young age and trained under her mothers' club until she was 12. In the year 2017, she earned her M.B.A. from Indiana University Kelley School of Business. Currently, Nicole serves as a producer for TV network NBC.
Caption: Andrew Luck with her girlfriend, Nicole Pechanec
They are in a relationship since their college days in Stanford as both the couple attended the same college. In their college days, they were quite a high profile athletics couple as Nicole was a gymnastics team captain and Andrew was regularly seen cheering her at a number of high-profile competitions. Currently, the couple seems to be happy in their relationship. However, in the future, they would be seen as husband and wife of each other.
Does Andrew Luck have a Brother?
Andrew Luck was born on 12th September 1989, in Washington, D.C, the United States to parents Oliver Luck(father) and Kathy Wilson Luck(mother). He grew up with his brother and sisters. His brother, Addison Luck is a junior midfielder who has scored 18 goals and recorded five assists while leading Morgantown High to the Class AAA state championship. Also, he has a 4.10 GPA.
"Addison Luck was the best and smartest player that we saw all season," Mario Julian, head coach at Wheeling Park High, toldGatorade. "He can do it all. He scores with his head, his feet, he passes better than anybody and you just can't get the ball away from him."
Caption: Andrew Luck's brother, Addison Luck
Andrew's and Addison's father, Oliver was also the first president and general manager of the Houston Dynamo of Major League Soccer. Addison Luck ends his season on a higher note than Andrew, whose Indianapolis Colts lost to the eventual Super Bowl champion New England Patriots in the AFC Championship Game.