Is Ami Brown still alive or Dead? TV Actress Married life with Career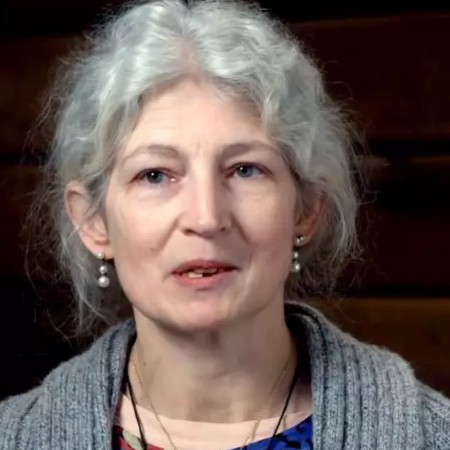 The reality star rose to fame as the mother on the Discovery Channel series Alaskan Bush People, which follows her family's unconventional lifestyle living in the Alaskan wilderness.
Early Life of Ami Brown
Ami Brown was born on August 28, 1963, in Texas the United States as Amora Larene Branson Brown.  As of 2022, her age is 59 years old and his sun sign is Virgo. Ami was born to Eugene Branson and his wife, Earlene Branson.
She was raised alongside her elder brother, Les Branson. Concerning her nationality, Brown is an American and belongs to the white ethnicity.
Is Ami Brown Married? 
When Ami was just 15 years old, she met her future husband, Bill Brown. In the initial phase, both started liking each other which gradually bloomed into a romantic relationship. After dating for some time, they tied the knot in a secret ceremony on 16th June 1979.
Although it was Ami's first wedding, the case was not the same for her spouse Billy. Bill married a lady named, Brenda. The ex-couple had two children before they parted ways.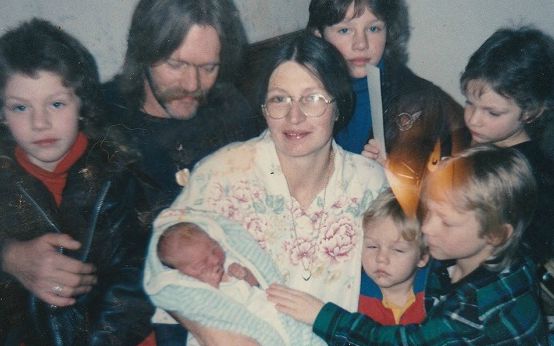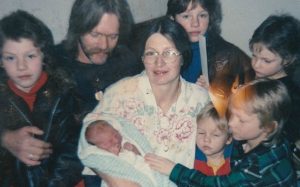 In addition, Ami and Bill share five children named Rain Brown, Snowbird Brown, Noah Brown, Gabriel Brown, and Joshua Brown. After her recent recovery from cancer, She is living a blissful life enjoying every moment with her husband and kids.
The Brown family is celebrating the birth of Noah and Rhain's baby boy, named Elijah Connor Brown. He was born on January 26, 2019, and was 7 pounds, 5 ounces, and measured 20 inches.
Health Condition
In 2017 while filming promo shots for Alaskan Bush People, Ami Brown began having issues with her back and it became pretty hard for her to get around. Although the first thing that came to mind was that she suffering from arthritis, it was found that the issue was, in fact, stage 3 lung cancer.
According to her final analysis, she only had a 3 percent survival chance according to her doctor. To take the entire chance, the family relocated to Southern California where Ami continued her treatment. As she continued with the battle, Ami reduced to 89 pounds from her previous 128 pounds.
After undergoing a couple of rounds of chemotherapy at the UCLA medical center, she got good news from her doctor who revealed that the mass had been cleared from her lungs.
Is

Ami Brown D

ead?
For someone with stage 3 cancer who had only been given a three percent chance of survival, there are many who had already considered it as a point of probably no return for Ami Brown. Interestingly, she beat the odds and she is still very much alive. Not only that, but she is mostly cancer-free, though she will need to return for screening every few months to ensure that the mass does not reappear.
Her cancer isn't completely gone, but she's doing much better than she was when she was first diagnosed. The hope of the family and fans now is that she will return totally free of cancer.
How much is Ami Brown's Net Worth and Salary?
Since the start of Alaskan Bush People, Ami Brown has been a part of it and she has been very hard working all through it. Thanks to that, she has a net worth that has been estimated at over $500,000. However, she has not revealed the actual salary she received from the show.
The main source of her fortune as one could easily guess is her role in the reality series for which she is said to be making between $40,000 to $60,000 as her annual salary. With tremendous earnings, it's a matter of fact that Brown is living a quality life with her family. However, there is no information related to any properties owned by her.
Rise to Fame and "Alaskan Bush People"
During that period, Ami's husband started writing stories about his family's life and adventures, and soon out came his memoir "One Wave At A Time", which was followed by another book "Teacher Of The Old Code".
In no time the books caught the attention of producers who have worked on several documentary reality TV series, who offered them a series based on the family's life in Alaska, which they obviously accepted, and so return north.
Career
Talking about her shimmering career, she got recognition after she came to the Discovery series.
She represented as a mother in Alaskan Bush People in 2014.
Ami rose to fame after she appeared in the Discovery series Alaskan Bush People portraying the role of the mother figure.
The reality-documentary series about the Brown family- Billy, their wife Ami, and their seven grown children who, according to Discovery,  are interesting because they are unlike any other family in America.


Since the start of the American reality TV series Alaskan Bush People in 2014, Ami has been an important part of it together with her entire family.
Since then fans have been on edge as they hope she gets better.
FAQs of Ami Brown
What is the nationality of Ami Brown?
Ami holds American citizenship as a nationality.
What happened to Ami Brown?
Ami was diagnosed with stage 3 lung cancer. However, after a two-year battle, the reality star was able to overcome cancer.
What is Ami Brown famous for?
Ami Brown is famous as the mother on the Discovery Channel series Alaskan Bush People, which follows her family's unconventional lifestyle living in the Alaskan wilderness.