Five Interesting Facts of Google CEO Sundar Pichai's Wife Anjali Pichai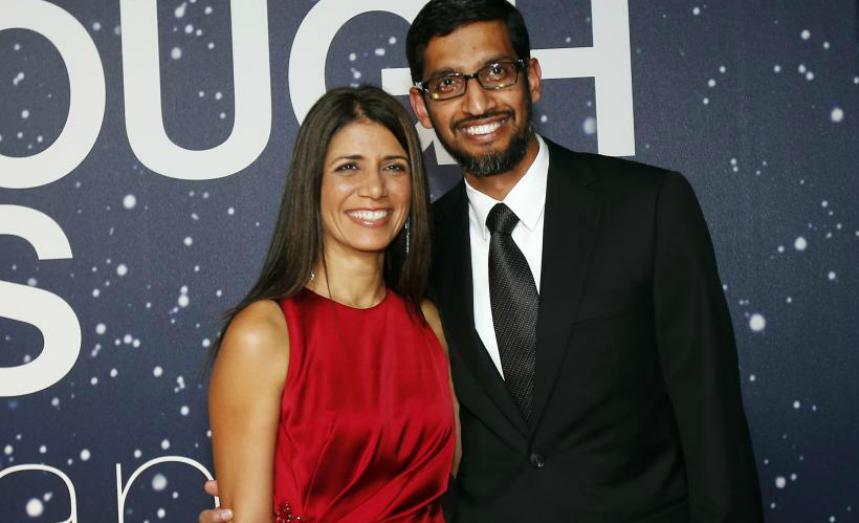 Anjali Pichai is an Indian chemical engineer who is famous as the wife of Google CEO Sundar Puchai. They have been together since their college days and have two children as of now. Her husband, Sundar Pichai joined Google in the year 2004 and stepped into the role of CEO in October 2015. Currently, she works as a Business Operations manager at Intuit and has a chemical engineering degree. Let's know the five interesting facts about her.
1. Anjali Pichai Grew Up in Northern India & Studied Chemical Engineering in Kharagpur's College
Anjali Pichai was born on 11th January 1971, Kota, Rajasthan, India. She resides the city of Kota, located in the Northern Indian state of Rajasthan, as her hometown. Anjali chose the Indian Institute of Technology for college in Kharagpur. The college is located approximately 900 miles southeast of Kota, near the border with Bangladesh. She studied chemical engineering and graduated in the year 1993 with a Bachelor's of Technology.
2. The Google CEO Sundar Pichai Proposed to Anjali During Their Senior Year of College But Reportedly Had a Long Engagement
Anjali Pichai met her husband, Sundar while they were both undergraduate students at the Indian Institute of Technology. The couple were both engineering students and took classes together. They were just friends at first. The profile does not indicate who made the first move and when exactly the couple began dating. Later, Sundar Pichai proposed to Anjali during their last year of college. But the couple had a long-distance engagement for a significant amount of time.
Caption: Anjali Pichai with her husband
Sundar moved to the United States of America for a master's degree at Stanford. According to some online resources, the couple went six months unable to speak to each other due to the high cost of international phone calls. However,  Sundar reportedly asked Anjali's parents for permission to marry their daughter and the two tied the wedding knot.
3. Anjali Pichai is a Businesswoman & is the Reason Why Sundar Stayed at Google
Anjali Pichai is a successful American businesswoman. Previously, she worked as a business analyst at Accenture from the year 1999 to 2002. Currently, she is working at the software company Intuit as a Business Operations Manager. She can apparently take some of the credit for her husband's rise to the CEO position at Google.
According to some online resources, she convinced Sundar to stay with the company as he fielded offers from various tech companies. Previously, Sundar has been approached for top jobs at Yahoo and Twitter. In the year 2014, he was also considered the front runner to become the next CEO of Microsoft.
4. Anjali and Sundar Pichai have Two Children & a Dog, Jeffree
Anjali Pichai and her husband Sundar are the proud parents of two children as a daughter and son. Their daughter's name is Kavya while their son's name is Kiran. She has not updated her public Facebook page in a few years. But she had posted several photos of the children when they were younger.
Caption: Anjali Pichai's dog
The family also has a dog, Jeffree. Her husband, Sundar doesn't share photos of his wife or children on his Instagram page, but there is a handful showcasing of their dog.
5. Anjali & her husband, Sundar Pichai Built a Massive Contemporary Home They Assisted in Designing
The Pichai family reportedly lives a lavish and modest lifestyle. Currently, they live in Los Altos, California, which is the northern part of Silicon Valley. Their home value in the area is about $3.5 million. The couple teamed up with architect Robert Swatt to design their own contemporary home which sits on more than three acres of land and includes nearly 10,000 square feet.
The design of the house includes an infinity pool, a garage more than 800squaree feet, a gym, a wine cellar, and separate apartments for the nannies. They bought their lavish house in the year 2014 for a reported around $6 million.